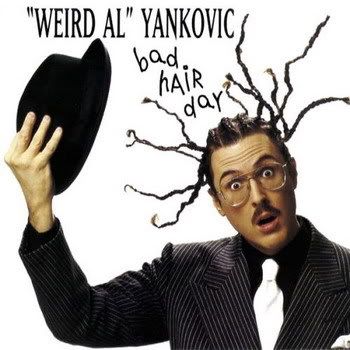 PARODIES: 7.
There's no denying "Amish Paradise" ranks with Al's very best, and the other single from this album, "Gump," tends to overshadow the original Presidents of the United States of America version in my memory whenever I think of it. "Phony Calls" (TLC's "Waterfalls") is still the weakest song on the album 15 years later, but the remaining 2 parodies hold up okay, even if I don't remember the songs they are mocking.
ORIGINALS: 9.
This is where this album really shines. Some great style parodies I didn't understand when I was 15, complimented by two of Al's best sick-humor songs: "I Remember Larry," where vicious pranks lead to murder, and another demented take on Christmas, "The Night Santa Went Crazy."
POLKA MEDLEY: 8.
Man, I don't think there's a bad polka medley on any of these albums, but not much really distinguishes this one so I don't really have much to say about it. Al's "You-oo-oo-oo-oo" when he sings Alanis Morissette is the highlight.
OVERALL: 8.
This was the most pleasant surprise of all the albums I revisited. This was the last Weird Al album I listened to for a long time because I didn't really like it, and kind of felt like I was growing out of Al. Revisiting it now, it plays as a far smarter and more layered album than I ever could have expected from a record that climaxes with an explosion of reindeer guts.