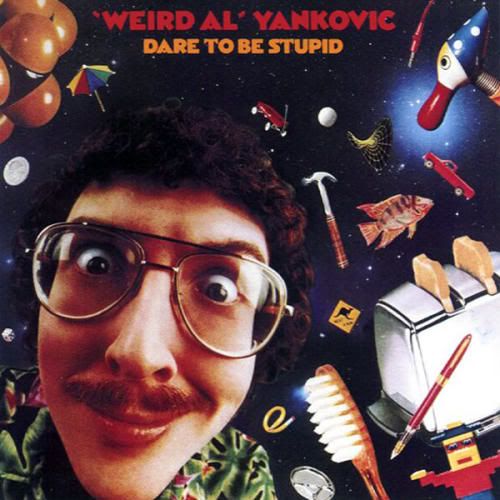 PARODIES: 7.
"Like A Surgeon" (Madonna's "Like A Virgin") is the classic, but "Yoda" (The Kinks' "Lola") is clever and "I Want A New Duck" (Huey Lewis and The News' "I Want A New Drug") is fun even if it's a bit, well, stupid. (What's the album title again?) Unfortunately, one of Al's worst parodies is included; his record label demanded a Cyndi Lauper parody, and he delivered the half-hearted and fairly awful "Girls Just Want To Have Lunch." (The record label also demanded Al do a straight cover song, so there is the puzzling inclusion of a faithful version of the "George of the Jungle" theme song on the album.)
ORIGINALS: 7.
3 pretty good tunes and 2 stone-cold classics. The Devo-mocking "Dare To Be Stupid" and the doo-wop-style break-up song "One More Minute" are cleverly written and perfectly executed, mixing Al's penchant for absurdist imagery with obvious love for the styles he's utilizing and even a few dashes of genuine sentiment.
POLKA MEDLEY: 10.
This one focuses solely on hits of the moment, so you have Tina Turner bumping against Hall & Oates, who share the stage with Nena, Kenny Loggins, Frankie Goes To Hollywood, and more. Quite a good medley that seems oddly forgotten at this late date.
OVERALL: 7.
This feels like mostly a pretty great album, and maybe if someone at the record company had asked for a few more originals along the lines of "One More Minute" instead of trying to wedge in weird touches like the "George of the Jungle" cover, this might have been one of Al's best.